Clydesdales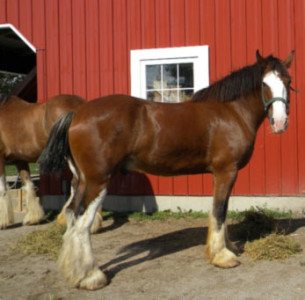 Clydesdales were developed in the valley of the River Clyde in Scotland. Originally used as a work horse, the Clydesdale has become a very popular parade horse. A typical Clydesdale stands 16.2 hands high and weighs anywhere between 1600-2000 pounds.
The normal gestation period of a Clydesdale is 11 months. New born foals weigh approximately 125 pounds and stand 3 ½" feet tall. They are often brown or bay in color with blazed faces and white stockings are common markings. The other distinctive feature of the Clydesdale is the abundant feathering on the fetlocks.
NORM'S CLYDESDALES
Norm's Clydesdales are legendary in Shiloh, Illinois!  Norman Wilke acquired his first Clydesdale horse in 1991. Since then, he's acquired an entire team, bred many mares and witnessed the births of dozens of foals.  He has also marched his team of Clydesdales, outfitted in full regalia, in many local parades throughout the area.
In 2005, construction of Norm's Bargain Barn in Shiloh, IL, included special horse stalls so that his Clydesdales could come and stay at their "home away from home" during the spring and summer months.