About Norm's Bargain Barn
Our History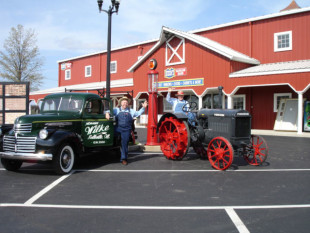 Norm's Bargain Barn first appeared in 1997 and served as an outlet for returned, discontinued, damaged and overstocked items from its parent company, Wilke Window & Door, Inc. Norm Wilke had founded Wilke Window & Door in 1960 and after more than 30 years he decided to semi-retire and turn over control to his son, Steve Wilke, in 1991. Retirement allowed Norm to concentrate on his other interests. Being raised on a farm, Norm loved restoring vintage farm equipment to its original condition. He also loved draft horses, and when a team of Clydesdales became available, Norm quickly snatched them up.
But Norm always found himself being drawn back to his main interest, Wilke Window & Door, which by now had grown into one of the St. Louis area's largest building supply companies. Soon Norm began taking on more and more responsibilities, one of which included Wilke's annual tent sale where the company would try to sell, over a three-day period, all the non-stock items that had accumulated over the year.
In 1995, Wilke Window & Door completed construction of its new 90,000 sq. ft. warehouse and converted a portion of the old warehouse into an area for Norm to sell tent sale items year round. Norm combined his new responsibility with his passion for farm living and created Norm's Bargain Barn.
After remodeling the warehouse to look like an old red barn, Norm soon discovered that if he wanted people to keep coming back, he would need more to sell than the company's mistakes. Norm began calling all the suppliers that he had dealt with for years looking for closeouts, overruns and obsolete inventory to sell in his new facility. It didn't take long for manufacturers to discover that Norm's Bargain Barn was an excellent place to liquidate their unwanted inventory. Norm added a stock line of economical new construction vinyl windows, kitchen and bath cabinets and decorative glass entry doors to round out his product offerings.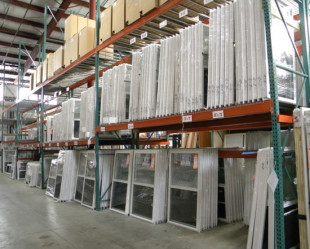 It became increasingly obvious that Norm was going to need a lot more room, so plans were made to build a new larger barn to house all of the products Norm wanted to offer. After years of planning, Norm finally opened his new Bargain Barn in January of 2005, complete with horse stables to house his 2,000 pound pet Clydesdales. Situated in beautiful and historic Shiloh Valley, Norm's Bargain Barn is a place to visit as well as shop. With its barn red siding trimmed in white, wrap around porch, 12 ft. tall cupola with a coppered covered roof, horse stalls and wind mill, Norm's Bargain Barn is a local landmark.
Because of the store's popularity, a second Norm's Bargain Barn location was added in 2009 next to Wilke Window & Door in the Gravois Bluffs area of Fenton, Missouri. Today customers are able to shop Norm's great bargains on both sides of the Mississippi River!